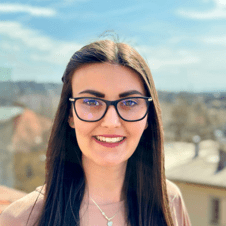 Klaudia Tóth
My name is Klaudia Tóth and I am a Recruitment Consultant at Diepeveen & Partners Kft. Throughout my career, I have developed a deep understanding of the recruitment landscape, both from the candidate's perspective and the hiring organization's needs. 
As a recruiter, my goal is to find candidates the dream job where they can reach their full potential while developing and gaining new knowledge and experience. On the other hand, it is also important to me to find the perfect candidates for our clients with the maximum available satisfaction. I truly believe that successful recruitment is not only about matching skills and qualifications, but also about finding candidates who align with a company's values and goals. 
My passion for recruitment drives me to stay at the forefront of emerging recruitment trends and advancements, ensuring that I provide innovative solutions and employees for our prestigious clients. Apart from my professional ambitions, I am a firm believer in continuous learning and personal growth, so I always deepen my knowledge through conferences and trainings.